WHAT'S IN IT FOR YOU AND YOUR COMPANY
What challenges and pain points we solve for you and your company
We help your SaaS, IT, software, or IoT company or startup to get first or new customers. Also on new markets and in new countries.
...as we did for
AirPilot, CISO Assurance Global, Titomic Ltd, Circulix GmbH, Aleger Global GmbH, Automation Rise SARL, Work Life Group, SanusX GmbH, ExperiAR S.r.l. / Larin Group, MyCerty.ch, Convertedin LTD, DCON1, EDEE AI Ltd, Labster, ApS, Web1on1 BV, KMU Digitalisierung GmbH, and Resilio Inc.
As business development and sales specialists for SaaS, IT, software and IoT solutions and products, we know the issues you are struggling with:
Is our current or planned approach the best possible?
Have we correctly identified the ICP (Ideal Customer Profile)? And the best contact person?
How do I find these ideal, potential customers?
How do I get appointments with potential prospects?
How can I show potential prospects our authority?
How do I conduct a discovery call to qualify or disqualify the prospect?
How do I conduct a demo best suited to the current prospect?
How do I get the prospect to buy?
We specialize in ICP, prospecting, lead generation, relationship building, discoverycall, democall and closing.
We know,
what the process must look like
which key data are important for an ICP - and who the ideal contact person is
which are the right tools: Our tool gives us access to ~260 million people and ~60 million companies
how to build a sequence of LinkedIn, email, and phone steps to get appointments
how to build authority on the Internet
how to qualify or disqualify a prospect so as not to waste your financial and time resources
how to conduct a demo tailored to the individual prospect and their challenges and desires to make the most of this unique opportunity
What makes a prospect want to buy. And also how we get him to make a buying decision
For our messaging we use not only words, but also videos, which as we all know say more than 1000 words. Here is an example in English that we created for our client AirPilot, and used for emails. AirPilot revolutionizes your marketing customer reporting: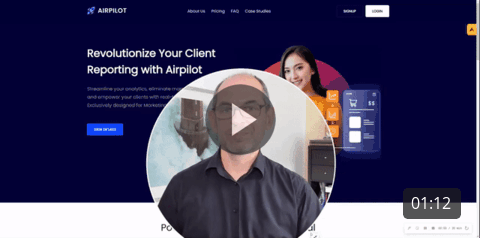 For more video examples, visit "Services - B2B BUSINESS DEVELOPMENT AND SALES FOR SAAS, IT, IOT AND MORE"
What do our customers say about us?
"This was my first time working with Roberto. Great communication skills and technical skills. Will work with him again - today".
"Roberto is one of the most honest people I have ever worked with. He takes feedback to heart, is extremely dedicated and cares about the business like an owner would. I look forward to working with him again soon."
"Roberto is very conscientious and detail oriented. I would recommend him without hesitation.
Let's schedule a conversation where we can share more insights on how we've helped other companies.
You can schedule a call HERE - We look forward to talking with you.
SwissDIT | At home in Switzerland and Germany
Welcome!
How I can reduce the burden on your business and how my services can benefit your company.
For 20+ years, I worked for well-known enterprises in Switzerland and Germany, including HP (Dübendorf, Switzerland), Sun Microsystems/now Oracle (Hegnau, Switzerland), and IoT Analytics GmbH (Hamburg, Germany). In the course of these positions, I had the opportunity to work with companies such as ALSO, Bechtle, HP, Aten, Trendnet, Cisco, NetApp, VMWare, Media Markt, and many more. Thus, if you speak of IT, Software, Hardware, IoT, virtualization, x86, SLA, USV, POE, Smart Home, network, SSD, maintenance, licenses, and the like, we speak the same language.
With my company SwissDIT, I offer services in German, Swiss-German, English, French, and Italian since 2016.
Many of the tasks that arise in your company are time-consuming and costly and keep you from focusing on the core business. What's more, absences due to illness and parental leave can complicate work processes further. This is where I can offer you my support – at fair conditions and in original Swiss quality.
Advantages of SwissDIT
When you outsource your business processes, no additional personnel and rental costs for offices incur. You only pay for the services I have provided for your company. Thanks to the nearly 20+ years of professional experience in Switzerland and Germany, I am familiar with the expectations and demands of Swiss and German companies (your target audience). Furthermore, I guarantee absolute data security and discretion.
My contact details
SwissDIT Dienstleistungen für IT, IoT und UE, Roberto Giardina, Voßhöfener Str. 104A, D-58300 Wetter
Office 0049 2335 8484289 - Mobile 0049 176 27159256